Blog
Blackened Cajun Salmon with Grits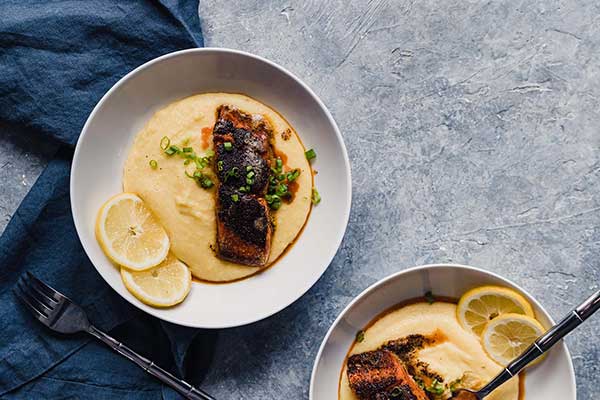 Blackened Cajun Salmon with Grits
Recipe and photos by Shanna Schad
"This blackened Cajun sockeye salmon meal is so easy, flavorful and comes together in just minutes thanks to both quick cooking salmon and grits. People sometimes think fish doesn't pair well with cheese, but I am here to prove that wrong. It is amazing with the creamy, smoky, cheesy grits."
Ingredients
4 portions (4-5 oz each) Prince William Sound Sockeye Salmon
2 tbsp olive oil, divided
2 tbsp butter
1 tbsp freshly squeezed lemon juice
2 tbsp Cajun seasoning
1 tsp Old Bay seasoning
1 tsp smoked paprika
1/4 tsp cayenne pepper
1/2 tsp kosher salt (only if Cajun does not include)
1/2 tsp ground black pepper
1 cup quick cooking grits or polenta
4 cups broth (chicken or vegetable)
2 tbsp unsalted butter
1/2 cup half and half
1 1/4 cups shredded cheddar cheese
1/4 cup shredded smoked gouda
1/2 - 1 tsp kosher salt
1/2 tsp ground black pepper
Lemon slices
1/2 cup finely diced scallion
Tabasco
Instructions
(read directions thoroughly before cooking)
Preheat cast iron skillet on medium-high heat
For grits, heat 4-qt saucepan on medium heat
Bring broth in saucepan to simmer
Remove any remaining salmon bones
Pat salmon dry and cut to desired size
Brush salmon with olive oil
Combine seasonings, press non-skin side of salmon into mixture
Heat remaining olive oil and 1 tbsp butter in skillet
Cook salmon skin side up 3-4 minutes, then flip and cook 3-4 more minutes
Remove salmon, add remaining butter and few drops Tabasco to make a sauce
While cooking salmon, add rits to simmering broth and whisk for about 5 minutes, until desired thickness
Remove grits from heat and add remaining ingredients
Stir, add salt to taste
Divide grits into bowls, top with salmon and sauce from skillet
Add diced scallion, Tabasco, and lemon slices.
Serve immediately and enjoy!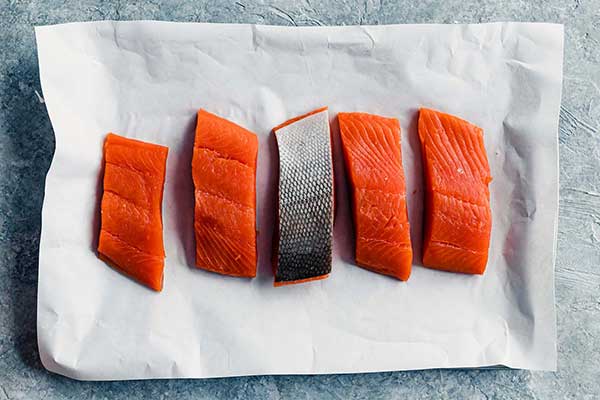 ---
‹ Back