Blog
Chili Lime Grilled Salmon Rice Bowls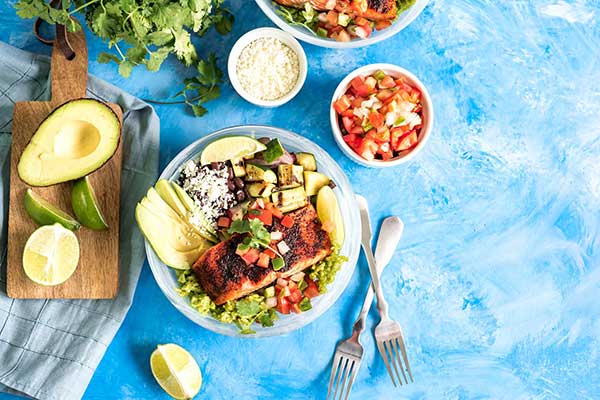 Chili Lime Grilled Salmon Rice Bowls
Recipe and photos by Shanna Schad
"Chili Lime Grilled Sockeye Salmon Rice Bowls are a delicious and easy to make summertime meal. This recipe has been in regular rotation all summer long at my house. Not only do I love grilled salmon in the summertime, I love grilled vegetables too. Our garden had a massive zucchini plant that produced a ton of zucchini all throughout June and July. Same season as Sockeye Salmon. I love adding in grilled vegetables with my salmon bowls for an extra boost of nutrition."
Ingredients
4 portions (6 oz each) Prince William Sound Sockeye Salmon
2 tbsp chili lime seasoning
2 tsp high heat oil (avocado oil works well)
2-3 cups cilantro lime rice (link here)
2 medium zucchini
2 medium yellow summer squash
1/2 medium red onion
2 tsp high heat oil
1 tsp salt
1 tsp pepper
Black beans, heated, salt added if needed
Avocado, sliced
Pico de gallo
Cotija cheese, crumbled
Cilantro
Lime slices
Instructions
(read directions thoroughly before cooking)
Preheat grill to medium heat
Rub salmon with oil then season generously with chili lime
Slice tips and ends off zucchini and squash then slice lengthwise into 4 sections
Slice red onion into thin strips
Drizzle with oil then season with salt and pepper
Grill veggies 2-3 minutes each side
Grill salmon 3-4 minutes each side, seasoning side down first
Salmon should be opaque and separate easily with a fork
Place half cup cilantro lime rice in bowls
Add 1/4 cup black beans and tbsp Cotija cheese
Slice zucchini and squash, place 1/2 cup of each in each bowl
Place salmon in each bowl, top with pico de gallo
Place avocados next to salmon
Garnish with cilantro and lime slices
Enjoy!


Click the button below to view our recipe card with these instructions.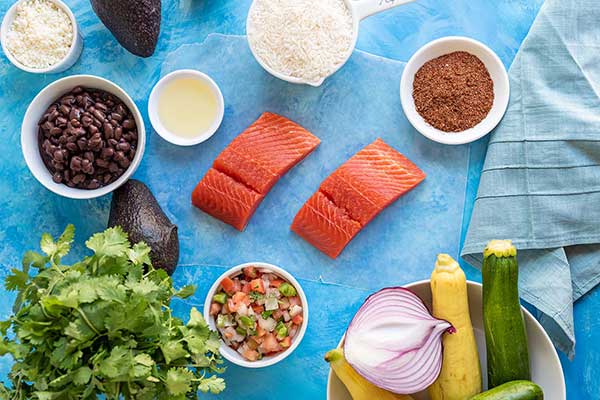 ---
‹ Back