Blog
Jamaican Jerk Salmon Sliders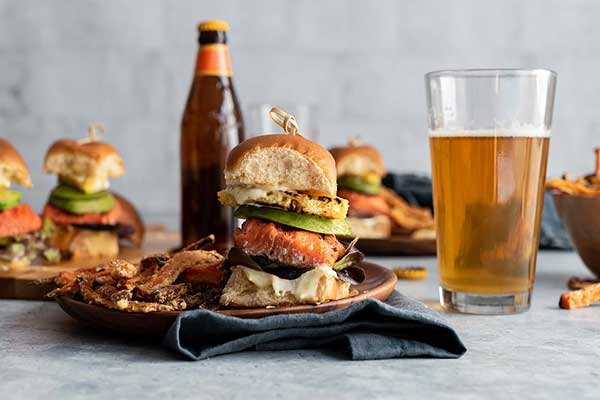 Jamaican Jerk Salmon Sliders
Recipe and photos by Shanna Schad
"I have been wanting to make a version of salmon sliders for my blog for a while now, and since a ton of bloggers already have the BLT salmon sliders recipe covered, I decided to go with a version that is a little bit spicy and a little bit sweet. I am a huge fan of Jamaican Jerk spice with salmon. It goes great with the mild tasting fish, but doesn't over power it."
Ingredients
8 portions (3 oz each) Prince William Sound or Copper River sockeye salmon
2-3 tsp avocado or sunflower oil
1-2 tbsp Jamaican Jerk seasoning
Pineapple, fresh, trimmed, and cut into eight 1/2" rounds
pepper
2 medium to large avocados, sliced
1 cup lettuce
8 Hawaiian Sweet rolls or slider buns, cut in half
2/3 cup mayonnaise
1 tsp lime zest
1 1/2 tsp lime juice
2 lbs sweet potatoes, peeled and cut into thin strips
1 tbsp corn starch
1-2 tbsp avocado or sunflower oil
salt
Instructions
(read directions thoroughly before cooking)
Preheat oven to 400°F
Line two baking sheets with foil, lightly oil
Place sweet potato strips in bowl, toss with cornstarch
Shake off excess, then toss with olive oil
Evenly place strips on baking sheets
Bake 15 minutes, flip, then bake 15 more minutes
Season with salt and pepper and let cool for a few minutes
Preheat grill to medium-high heat
Lightly oil salmon, season to desired heat with Jamaican Jerk seasoning
Lightly oil pineapple slices, grill for 5 minutes, then flip and grill 5 more minutes, then flip once more and grill 5 more minutes
Grill salmon for 3-4 minutes per side, flipping once
Once salmon is done, remove both salmon and pineapple
Toast slider buns or rolls
Mix together mayonnaise, lime zest, and lime juice
Spread lime mayonnaise on bottom roll, top with lettuce
Layer on salmon, avocado, and pineapple, and enjoy!
Click the button below to view our recipe card with these instructions.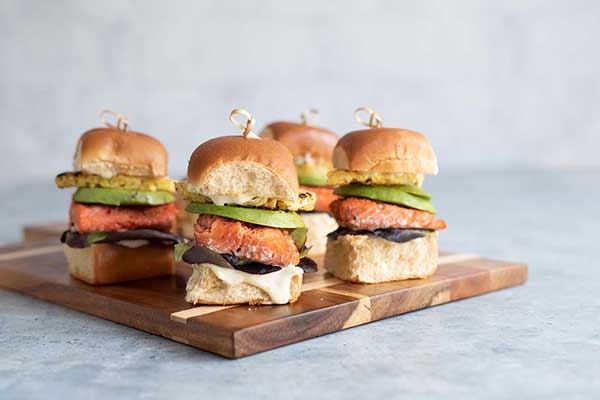 ---
‹ Back