Blog
Spicy Furikake Salmon with Quinoa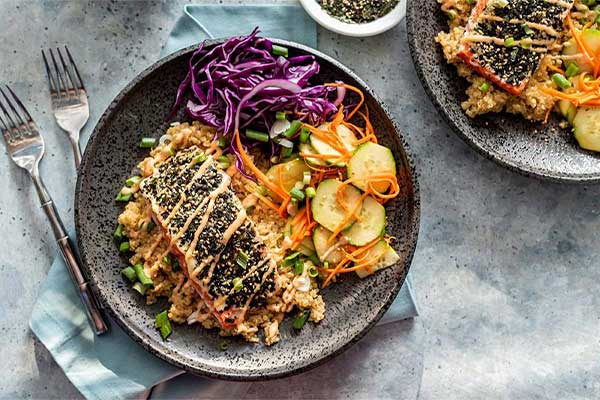 Spicy Furikake Salmon with Quinoa
Recipe and photos by Shanna Schad
Mayo and Furikake seasoning with your choice of spice make for a tasty, quick dinner served with quinoa, shredded red cabbage and quick pickled cucumbers.
Ingredients
For the Quinoa
3 cups chicken or vegetable broth/water
1/2 tsp salt (if using all water)
For the Pickles
2 Tbsp seasoned rice wine vinegar
2 tsp Tamari or soy sauce
For the Salmon
2 lbs wild Copper River sockeye or coho salmon
Spices
Additional items
2 cups shredded red cabbage
Instructions
Preheat Oven to 400°F
While the oven is preheating prepare the quinoa and cucumbers.
For the Quinoa - rinse the quinoa for a few min under cool water in a strainer and let drain. Add it to a medium saucepan with the broth or water. Add salt if only using water. Bring to a boil then lower to a simmer. Place a lid on the pan and cook for 15 minutes or until all the liquid is absorbed. Remove from heat and slide the lid off just slightly to allow steam to escape.
For the cucumbers - you can peel or leave peels on, wash the cucumbers then thinly slice. Peel and shred the carrots. Place into a bowl and add in the vinegar and tamari or soy sauce. Chill until ready to use.
Cut salmon into 4-6 ounce pieces. Check for any bones and remove with tweezers, rinse then pat the fillets dry. Line a baking sheet with foul and place the salmon fillets a few inches apart. Squeeze a little lemon juice over the top of the fillets. Spread about 2 teaspoons of mayo onto each fillet then generously sprinkle with the furikake seasoning, a tablespoon or so for each.
To make these spicy there are several options. 1 - mix in some of the prepared wasabi with the mayonnaise before spreading over the salmon. 2 - mix the mayonnaise with sriracha then spread on the fillets. 3 - after you spread the mayonnaise sprinkle a half a teaspoon or so of the togarachi spice. Choose any of these, then top with furikake. You can also use just the mayonnaise and furikake and serve the wasabi on the side or sprinkle with the togarachi after baking.
Mix 1/3 a cup of mayonnaise with 2-3 tsp sriracha and drizzle over the baked salmon.
Fluff the quinoa and divide amongst plates. Top with the salmon. Serve with shredded red cabbage, some of the quick pickled cucumber and carrots, a few teaspoons of diced scallion and a squeeze of lemon juice.
Click the button below to view our recipe card with these instructions.
Spicy Furikake Salmon with Quinoa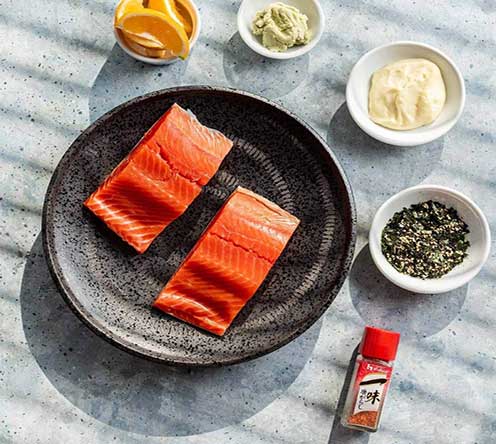 ---
‹ Back