Blog
The Natural Wonders of Prince William Sound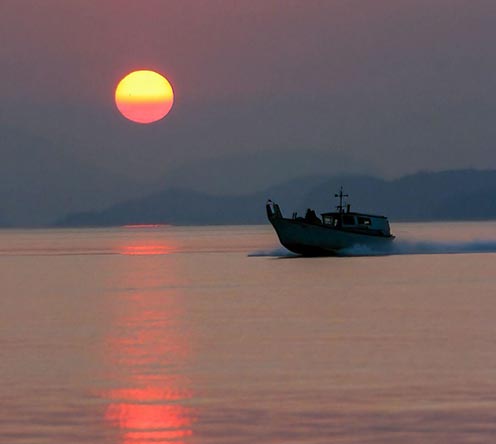 Sunset Over The Sound, Photo by Bob Martinson
Prince William Sound is home to a highly productive sockeye salmon fishery, which is a significant contributor to the region's economy. For the past 1,000 years, this location has been the final destination for ocean currents transporting valuable minerals from Antarctica. These minerals are deposited directly into Prince William Sound, a region that has not been significantly impacted by human development. As a result, it's a place full of natural beauty and mystery.
Read more here about the world's richest waters.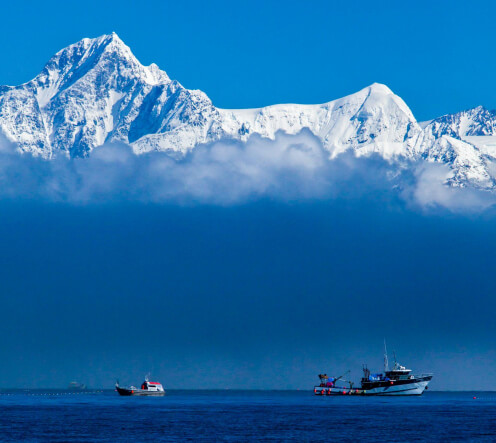 Beautiful Fog Masking the Mountains, Photo by Bob Martinson


The Majestic Landscape
Prince William Sound's coastline features many intricate fjords and inlets. The landscape is dominated by ancient glaciers, which tower above the water, creating a fortress-like barrier around the coast. Tens of thousands of years of existence have allowed these glaciers to carve deep valleys into the landscape, creating a visually striking and unique region. The combination of the icy glaciers and the winding coastline makes this region a truly breathtaking place to visit.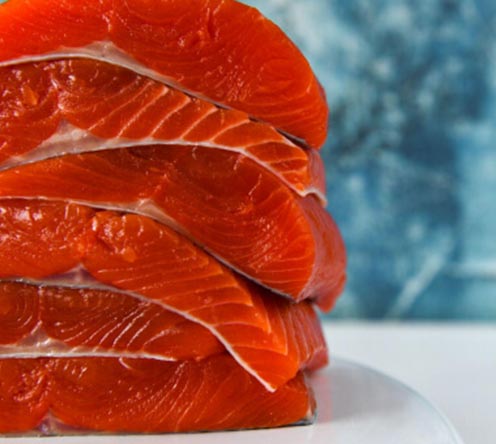 PWS Salmon
The Delicious and Nutritious Wild Salmon
In addition to its natural beauty, the region is also known for its delicious and highly sought-after wild salmon. Wild Alaska Prince William Sound salmon is a true delicacy, Sought after for its flavorful flesh, silky texture, and deep red-orange color. These majestic fish are caught in the pure waters of Prince William Sound, an unspoiled sound on Alaska's south central coast that is home to a vast variety of wildlife. The pristine environment of Prince William Sound is the perfect place for salmon to thrive, and it's no surprise that they are high in omega-3 fatty acids, making them a nutritious choice for seafood lovers.
Young Prince William Sound salmon set net fisherman with her catch
Our Commitment to Sustainability
As fishermen, we are dedicated to sustainable harvesting and processing practices that preserve the rich, natural legacy of the region. Our artisanal methods have been honed over generations by independent fishermen who set out on small one- and two-man boats to catch salmon using traditional gillnets. Each catch is handled minimally and delivered quickly to ensure maximum freshness and quality.
Our commitment to sustainability doesn't stop at the fishing process. As independent small business owners, we are dedicated to preserving our livelihood for generations to come. To ensure the long-term sustainability of the region's resources, we follow the recommendations of scientists and comply with government regulations. Maintaining the sustainability of the region's resources is a vital and honorable task that we are committed to carrying on for the prosperity of our descendants.
Prince William Sound is a true natural wonder, surrounded by spectacular glaciers and mountains and shielded from the open ocean by barrier islands. The unspoiled beauty of the region is a sight to behold, and it's no wonder that it is home to such a diverse array of wildlife. We are committed to preserving the beauty and abundance of Prince William Sound, and it is our hope that folks down the road will be able to enjoy it as much as we do.
Experience the Taste and Sustainability of Prince William Sound Wild Salmon
So next time you're in the mood for a delicious, healthy seafood option, consider Prince William Sound Alaskan wild salmon. Find Sound Salmon near you. Not only will you be indulging in a truly delectable treat, but you'll be supporting sustainable fishing practices and preserving the natural beauty of the region for future generations. It's a win-win situation that's sure to please both your taste buds and your conscience!
---
‹ Back